Among the many items covered in the recent Spring General Assembly, a few presentations of note for our faithful were those regarding the growth of our city (pictured above) and how Saint Nicholas is preparing to meet those larger numbers, as well as our "Champions" capital campaign to pay down the back building.


Click Here to View the Slides from the Assembly
Saint Nicholas Campus Vision Committee:
In attempts to prepare our campus for the current and future needs of the faithful of Wilmington we have formed our new "Campus Vision Committee." This committee is made up of representatives from both the Parish Council and the Growth & Planning Committee. Their mission is to create a plan for our future campus that accommodates our Growth & Planning strategy and prepares the parish to meet the needs of our expanding region. Thus far, we have interviewed several architects, contractors, and campus planners, and we have conducted some structural analysis on our existing campus. We will keep our faithful updated on our progress and we look forward to presenting our vision in the very near future. If you want to help please contact the Church or speak with a committee member directly.
Saint Nicholas Capital Campaign NOW Accepting Contributions: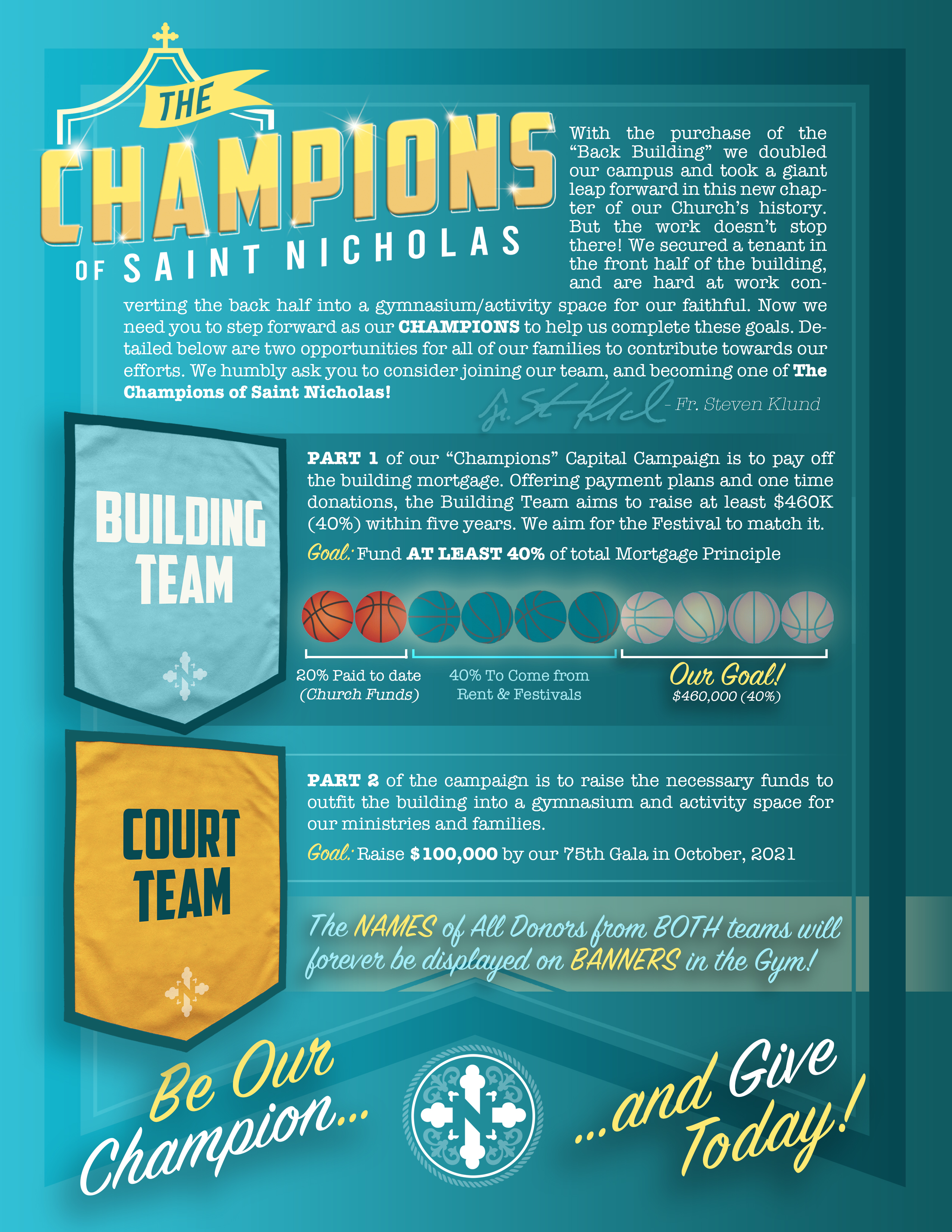 Our committee has developed a campaign strategy to help engage our faithful in supporting the campus expansion of our parish. Following the purchase of the Back Building, the Church has already roughly funded a fifth of the balance executing the contract, and our goal is that the remaining 80% to be equally provided by the festival (40%) and private donations from our parishioners (40%). Our first kickoff event will be the "March Madness" fundraising shootout on March 26 at 8pm.
We invite your family to join our Saint Nicholas Family in supporting our future growth by participating in this Capital Campaign Committee.