And so it begins! With the Saturday of Lazarus we enter into the Holiest of days on the Orthodox calendar, but under the most unusual circumstances. However, not to be deterred, the faithful of Saint Nicholas were able to worship and take part in the occasion in some unorthodox ways...
AHEPA Tsoureki Drive Through
Thanks to Jimmie Stasios and Dr. Spiro Macris our 2020 annual Tsoureki sale went on without a hitch! We had hundreds of loaves on hand to sell, and thankfully we did! Dozens of cars lined up in our Church parking lot, well into the afternoon ready to purchase and pick up their family's traditional Pascha sweetbreads. Protecting themselves (and others), Jimmie, Spiro and all those assisting with the sale made sure to wear face masks and gloves the entire time while interacting with the faithful and handling the inventory of Tsoureki. As is tradition here, the AHEPA also offered beeswax candles and traditional red easter egg dye for sale as well. We thank these gentlemen and the entire AHEPA Cape Fear Chapter 408 for their service in assisting our faithful in these unprecedented times.
Holy Week Preparations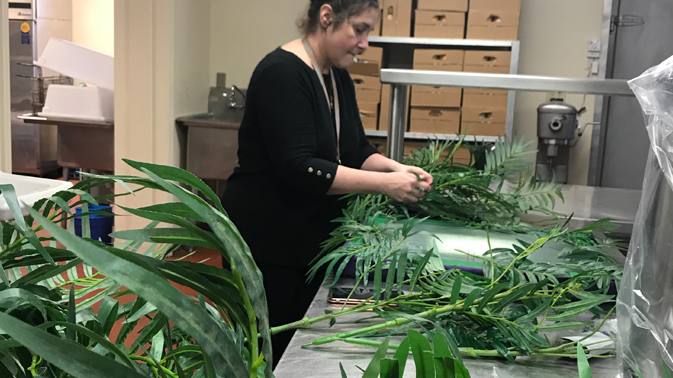 On Saturday, April 11 the final push to make arrangements for Holy Week were completed. Despite preparing to hold services with an empty Church, there was still plenty to do on campus to get ready for the Feast of Feasts! Office Administrator, Georgia Marmaras, spent much of the morning and afternoon decorating the Church for Palm Sunday as well as ensuring that our supply of candles was refilled for our the launch of our NEW "Light A Candle Say A Prayer" feature on our NEW Saint Nicholas Website. We pray that you will take advantage of this new feature and make your presence felt at Church even while praying from home. All those who make a candle donation will be able to write a list of names to be prayed for by our clergy and Parish Council members who will be on hand to light candles purchased by the faithful online.
Click Here to Light a Candle Today!
Saturday of Lazarus & Palm Sunday Storytime Videos for the Kids
In hopes of offering some spiritual assistance to our young families, Saint Nicholas will be offering a new online video series "Saint Nicholas Storytime." These short videos will feature spiritual picture books read by faithful stewards of Saint Nicholas. We will post videos to mark the various significant moments of Holy Week (and beyond!) as a resource for our parents as they hope to bring Pascha home to their children. Enjoy the first two entries in the series below as we look at the account of Saint Lazarus and Palm Sunday!