Since our purchase of the 606 South College Road property our Parish Council and Building Committee have been hard at work to get the "Back Building" ready for use. Starting in July we began renovations to the front and back portions of the space with great success. We are happy to report that we were able to ready the front half of the building in time for the start of the 2020 academic year. This allowed us to secure Wilmington School of the Arts as our tenant for this year (and hopefully beyond). Additionally, our team has been hard at work converting the back half of the building back into a gymnasium and activity center. We are thrilled to announce that we are nearing completion on that project and we are on pace to have our Grand Opening Event on our Feastday, Sunday December 6 after the Divine Liturgy.


Click Here to View our Progress in the Back Building!

Saint Nicholas Capital Campaign Getting Ready to Launch: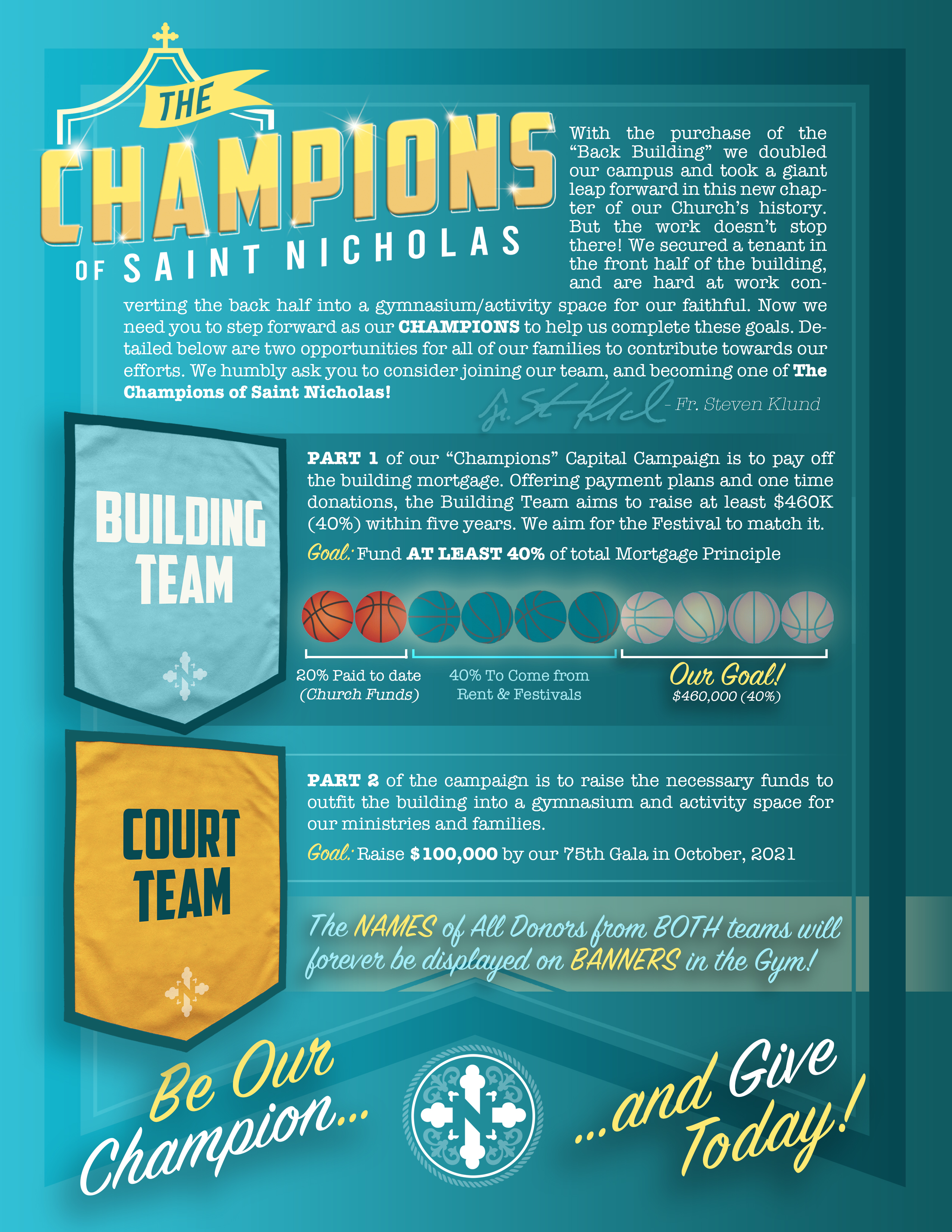 With the Back Building now a reality, we the faithful must rally together to support it. Our committee is finalizing a campaign strategy to help engage our faithful in this endeavor. The committee is confident that our Saint Nicholas Family will answer the call and that we will be able to aggressively pay down the remaining balance on the mortgage, and help fund our future campus expansion and renovation projects. The Church has already roughly funded a fifth of the balance executing the contract, and our goal is that the remaining 80% to be equally provided by the festival (40%) and private donations from our parishioners (40%).
Be on the lookout for ways your family can support our future growth with updates coming soon from this Capital Campaign Committee.
Click Here to Give Today! Click Here to Learn More
Saint Nicholas Growth & Planning Finishes Data Collection:
Capitalizing on this new milestone for our parish, the Growth & Planning Committee together with the Parish Council is hard at work creating the vision and plan for the future of our parish. Our efforts began this Summer when we met with local planning expert Mitch Owen (a parishioner at Holy Trinity in Raleigh, NC) to develop a system in which we could gain invaluable data on the strengths and opportunities of our parish. Over the next several months our committee and council members conducted dozens of interviews with parishioners, and we are pleased to announce that the results are in! G&P Committee Chair Lee King presented our findings at the General Assembly on November 8, and now we are going to begin creating our Church's strategy in response to the areas of interest identified in our interviews.