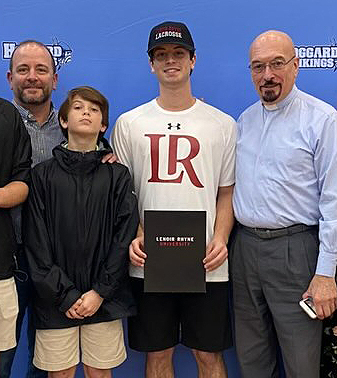 JOHN TSIGOUNIS ("JT") BURGEE was baptized at Saint Nicholas, he is a senior at Hoggard high school. He has played varsity as a defenseman for Hoggard high school for the last three years. He was one of only 12 defensemen in the state of N.C. selected as a all-star for the bull city All-Star team For 2020. He was named all county conference 2nd team for 2019. JT recently completed his eagle project and is currently an eagle candidate for Troop 232 at Wrightsville Beach. Jt was recruited to play lacrosse at Lenoir Rhyne university (ranked #5 in the us) in Hickory North Carolina and will be attending in the fall of 2020.
---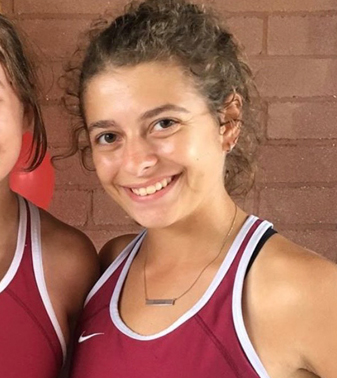 MARIA KATRIS is graduating from Ashley High School. She was a part of the dual enrollment program where she attended classes at Cape Fear. She participated in cheerleading and tennis during high school as well as being a part of the National Honors Society. She enjoys dancing and playing the piano. The Greek Church has impacted her greatly through her participation in GOYA, HDF, and other youth activities. Through the activities through her church and school she has made lifelong friends. One of her favorite memories is the mission trip that helped her grow as a young adult. Her plans after high school are to attend Chapel Hill and study Media and Journalism. She hopes to get involved with the school and study abroad in places across the globe.
---
PERRY SAFFO graduated from Point Institute with a cumulative GPA of 3.5 on April 30, 2020. His hobbies include fishing and weight lifting. He is a gifted public speaker and a novice comedian. His specialty is imitating the people he knows with great accuracy.
Perry and his friend Harrison created Berkey and Skipper on TicToc in 2019, and Perry played the part of "Berkey". The account achieved a following of 75,000+ and received over 250,000 likes for several of their TicToc posts that went "viral".
Perry does not want to attend a college, but might be persuaded to do so after he has worked for his father for a few more months. Covid19 has diminished the celebration but not the accomplishment of his graduation. We are very proud of him.
---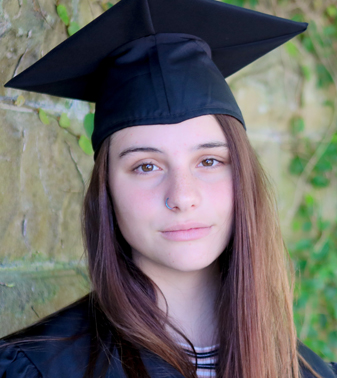 GIA THEODOROPOULOS is graduating from Mosley Career Readiness Academy in June and will attend Cape Fear Community College to complete her Associate's degree before transferring to a four-year university to pursue a Bachelor's degree in Psychology. Her goal is to complete her master's degree and work in the counseling field.
She is also an accomplished equestrian and horse trainer, helping transition former 'pasture horses' into accomplished jumpers at her barn, Champions' Corner and earning several Champion and Champion Reserve ribbons in competition. When she's not at the barn, she loves spending quiet time on the beach with her mechanical friend, Robbie--a 2001 Jeep Cherokee.
---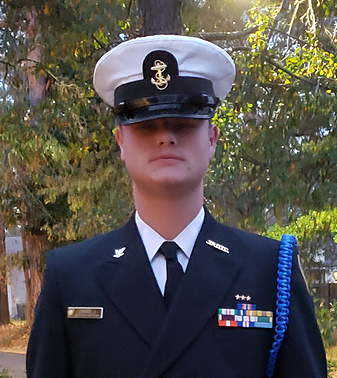 JOSH ZAHARIS was born in the shadows of 9-11, and only a year old when the family relocated to North Carolina. His early school years began at Holly Tree Elementary and then onto Roland Griess. He played baseball at Winter Park for 6 years, school lacrosse for 2 years, and equestrian dressage for 4 years winning numerous awards. He enjoyed Cub Scouts, Church Youth Groups, serving the Altar, and becoming the first of seven to debut in HDF with Zoyra, bringing home platinum recognition to St. Nicholas.
Attending JT Hoggard High School opened many doors. His four-years of success in JROTC included 10 ribbons, 3 service stars, and an armed exhibition cord, paving the road towards his career choice. He developed Leadership as a mentor to under-classmen. He developed Honor enjoying four years of football, Iron Man & Wrestling. He developed Generosity & Kindness by volunteering in cleanup efforts after hurricane Florence. He developed Loyalty as a dependable employee to the family catering business. He developed Gratitude working at Greek Festival, remaining in Goya & Zoyra, and in 2018 was Blessed to retrieve the Epiphany Cross and Baptize his God Daughter, Evelyn. He developed Courage by overcoming the stigma of ADHD. Furthermore, his dedication & patience to animal rescue for six years exemplifies his Compassion.
Amid a pandemic, Josh has completed High School and will continue to grow, serving his country with the United States Navy specializing in Military Police Dog Training & Handling.