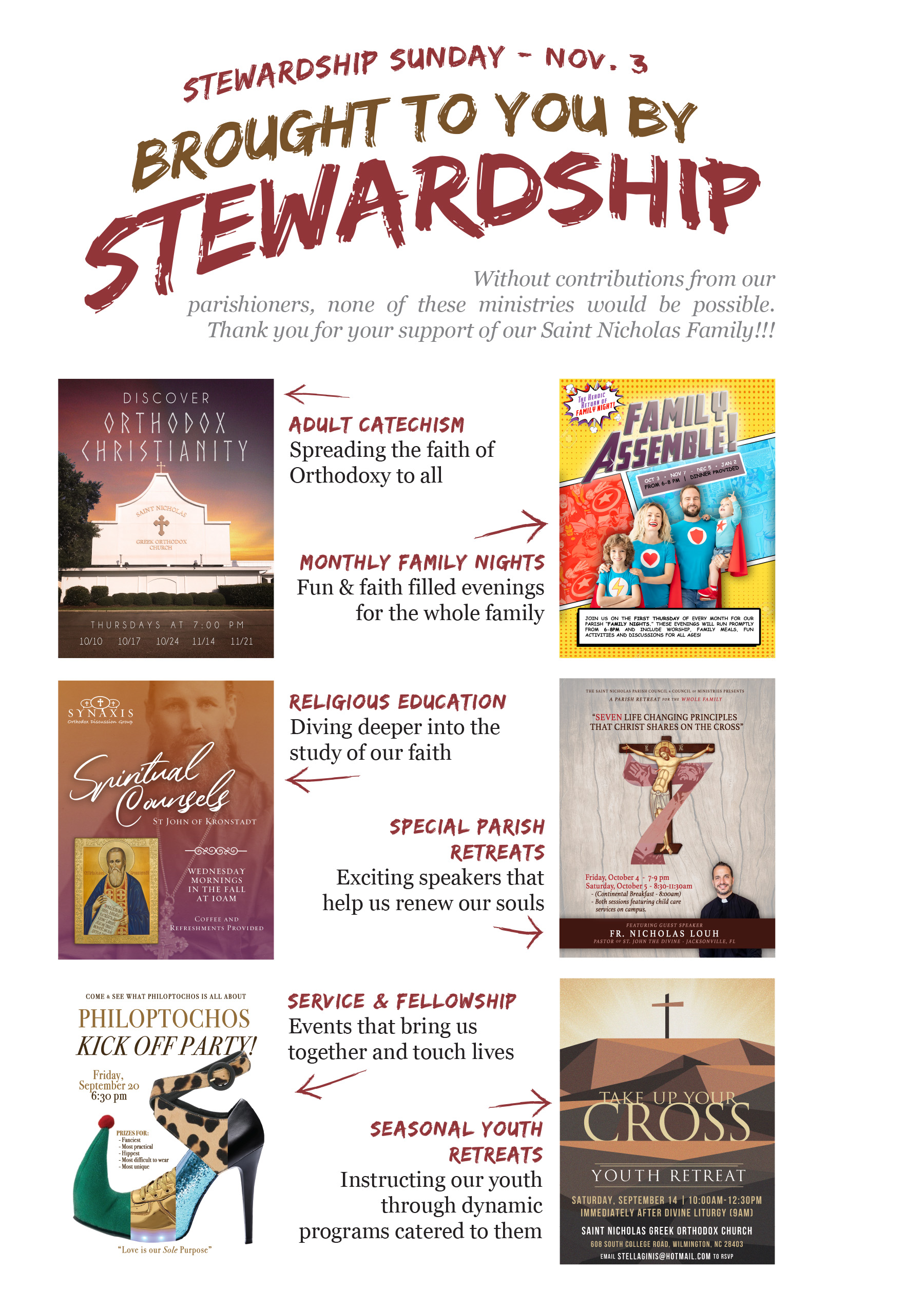 At every Divine Liturgy, as the priest raises the Holy Gifts, saying "Your own gifts, we offer to You," we offer ourselves to the Lord. We acknowledge that everything we offer, everything we have is a gift from God. We take what God has given to us and return it to Him as an act of our thanksgiving and praise.
As stewards of God's gifts, we return to Him a portion of our time, talents and treasures for Christ's work on earth through His Church.
The Saint Nicholas Stewardship Program is an opportunity to respond to Christ's love by perpetuating His ministry through the Church. Stewardship places the responsibility to support the Church exactly where it belongs, on us.

CLICK HERE TO DOWNLOAD THE STEWARDSHIP PACKET
Why is Money Needed?
Money is a necessary tool to fulfill the Saint Nicholas ministries and the mission of our Faith in general. Our stewardship pledge affords us the privilege of being instruments of the Lord's work of salvation on earth. We are called upon to commit ourselves to bear our fair share in the financial support of our ministries at Saint Nicholas, our Metropolis and Archdiocese.
The Saint Nicholas operating budget for the calendar year 2020 is approximately $377,000. The Parish Council has set a goal of just under $280,000 for Stewardship giving. The expenses of our Saint Nicholas Parish are vital for our Church, and are for: Worship, Ministries and Education; Maintaining our Buildings; Those Who Serve Us; Communicating with You; Our Total Commitment to the Archdiocese and Metropolis. The quality of our service as a parish and Archdiocese depends directly on the level of our giving.
The Scriptures on Stewardship
All that We are, and All that Have Belong to God: 
"The earth is the LORD'S, and the fulness thereof; the world, and ALL that dwell therein." (Psalm 24:1)
Return to God His OWN Gifts: 
"No one shall appear before the Lord empty-handed, but each of you with as much as he can give, in proportion to the blessings which the Lord God has bestowed on you." (Deut. 16:10, 16-17)
We Should Give to God FIRST: "Honor the LORD with your wealth, with the FIRST fruits of all your crops;" (Prov. 3:9)
Giving to God Benefits Us: "Now this I say, he who sows sparingly will also reap sparingly, and he who sows bountifully will also reap bountifully. Each one must do just as he has purposed in his heart, not grudgingly or under compulsion, for God loves a cheerful giver." (2 Cor. 9:6-7)
Other Scriptural References: 

1 Corinthians 16:2 - Giving Regularly/Proportionately
Luke 16:11 - Stewardship Proves we are Trustworthy
1 Peter 4:10 - Wealth Should be Shared with Others
Ecclesiastes 5:10-12 - Greed will Never Give us Peace

Proportionate Giving
The Old Testament laid down the standard of the tithe or 10% of one's income. This provides us with the principle that giving should be proportionate with our income. Stewardship is returning to God a fair proportion of the resources He has given to us.
The more we are given, the more is expected of us. "Everyone to whom much is given, from him much will be required." (Luke 12:48) Stewards determine what percentage of their income will be committed to Christ and the Church for 2020.


Giving Regularly
St. Paul tells us: "On the first day of every week, each of you should set aside a sum of money in keeping with his income." (1 Cor. 16:2) Every Sunday we should be prepared to make our Stewardship contribution to the Church in accordance with the Lord's generosity to us personally. Supporting the Church should be a priority for every Orthodox Christian and performed on a regular and consistent basis.
Consider how your expenditures on personal entertainment compare with your Stewardship pledge. Is your Stewardship simply a token donation? Or is your Stewardship pledge a personal manifestation of "Giving Thanks to the Lord" for all your blessings from Him?